Hello, everyone, and welcome to Week 2 of 26.2 Things! From your posts and comments, I'm getting the feeling that you're an enthusiastic bunch who can't wait to get running. Great! because here we go...
First, some housekeeping:
If you haven't sent me your Gmail address or blog address, please do. It's the only way I can give you credit for doing all those neat Things!
If you've created your blog, please put up an initial post (even just saying, "Hi! I'm here!"). I can't add you to our blogroll until you do.
A few of you have chosen to make your profiles private, which means that I can't see your blog information. That's fine, but then I truly do need you to email me your blog URL so I can keep track of it.
---------------------------------------
Now, back to social networks...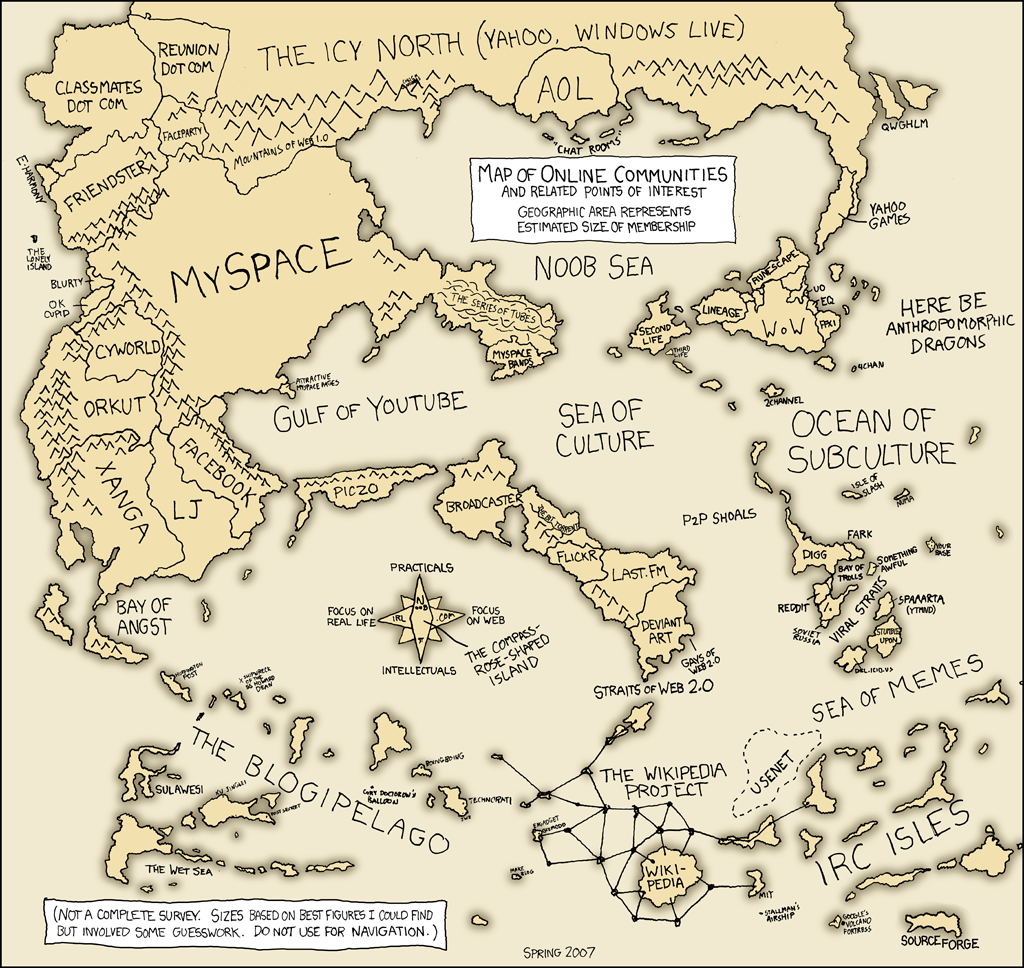 In the three-dimensional world, your social network is the system of contacts (personal and professional) that surrounds you. You
chat with your network
and
make new friends.
Your network gives you recommendations for
new restaurants,
bands,
contractors
and
places to go on vacation.
Professionally,
you find out about new opportunities and get feedback on ideas.
Your social network contains hundreds of people you know directly or through other friends and coworkers, and gives you access to interesting activities and useful information.
Online,
social networking sites
do the same things, and often with many of the same people. These sites are tools to expand those networks further and more easily than meeting at the diner or corner store ever could. People from around the world can come together to talk about politics or parenting or
knitting and crochet.
Through posts and discussions, reviews and comments, email and chat, these networking services offer another way to foster community and become part of a larger world.
Discovery Activity:
Explore some of the social networking services from the links above and below, or use your favorite search engine to find sites that match your interests. Think about what place an online community might have in your life, for fun or profit!
Brainstorm three ways a social network could be useful to you or your institution, and write about it in your blog.
Here's a few more specific communities:
The Lone Arrangers,
a community of solo librarians in all sorts of settings.
A Library 2.0 community.
TF Wiki,
a wiki-based community for Transformers fans.
Network for Good,
a place for donors, charities and volunteers to come together.
Loopt,
a social network for your mobile device.
Go the Extra Mile:*
Choose one of your ideas and run with it. Join or create a community, and let us know about it in your blog. Include links, as appropriate.
*
These are optional activities, if you want to take what you've learned one step further. They are *not* required.
As you can see, there are social networks for any possible interest or need. We'll explore a few more in Things 5 & 6. For now, jog on to
Thing 5: Did You Read That Review?